What an amazing few days it has been.
Last Friday, we were all getting pumped up for the game the following day at home to Bamber Bridge, and hoping the lads would be able to take advantage of a slip from Skelmersdale, and take advantage they have done, coupled with Curzon Ashton taking a point at Skem last Saturday, and then the boys destroying Fylde with a majestic second half performance, the Blues have one hand on the trophy.
Firstly, going back to last Saturday, I think we all hoped that we could break the 3000 attendance barrier at the Exacta, and the beaming face of Mark Howell confirmed that with we were going to do just that - what we didn't expect was to hit 3,300 - which just goes to show that anything is possible if you market it properly.
Get your flags out for the lads!
I must say I was absolutely taken aback by the superb flag arrangement in the main stand when I took a look outside, I have never seen the place looking so good, and credit to new Community Fundraising Officer Ann Wiggins, and Commercial Manager Paul Bodman for their efforts in putting those flags out.
Whilst the lads were getting their first taste of the pitch I jokingly shouted to Adam Judge & Greg Stones that their job was to sign each and every one of the flags - you can imagine the response that got!
Anyway, a quick visit to the Blues Bar and woah, you couldn't move, the Man Utd v Everton game had brought everyone down extra early it seems, and the place was absolutely buzzing, and at that point I just knew it was going to be a great day.
There was plenty to do pre match, and as ever it all seemed rather hectic, but plough through it we would. First job was to get all the details of the pre match plan, and run through with Cleggy, who would then ramp things up before kick off - we'd put a few extra dramatic 'ramp up' tunes in there too to drum up the atmosphere.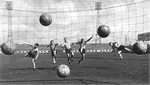 Famous Five - together again
Then time for me to meet the Famous Five for the first time (aside from Elfed Morris & Gary Talbot), and incredible that Micky Metcalfe had flown over from Gran Canaria especially to be here for the game, and to meet up with his former colleagues. Before I forget I must say this, I bumped into Gary Talbot yesterday at Tescos and he said that Mickey was so blown away by Saturday, that he wanted to know how Chester had got on at Fylde as soon as the final whistle went - yet another example of the 'Chester FC effect'.
Anyway, back to the Famous Five, and a quick shake of their hands, followed by a quick plan of action for what we wanted them to do - which was to recreate that famous photo, with them all kicking balls into the net in front of the Harry Mac (okay last time was Sealand Road but we'll ignore that part now as it wouldn't have been much fun recreating it in front of the new Tesco Home store would it??), and when we led them out the reception was perhaps one of the best I've ever heard at the ground.
So, we walked them over to the goal, and each of them took their place, stepped up, and to a brilliant Harry Mac Terrace, each took their kicks, and all but one scored, we'll gloss over that, but suffice to say they all had a good laugh about it, and had the obligatory photo - and then made their way back.
At this point the Junior Blues had already formed their guard of honour for the first team's arrival, but what better tribute than to have each of the Famous Five walking back through the GoH to take even more fantastic applause from the fans.
So, then time for the lads to come out, and to what I believe is the best reception in a long long time at home, obviously the Scarborough game in 2004 with a full ground was probably the last time, but this one seemed so much better for different reasons, this is everyone's club now, and everyone knew the part they had to play in raising the roof to help the lads.
The game started well enough, and then the magic started when in the 13th minute a beautifully lofted ball from Michael Powell found Simmo and he and the keeper clattered into each other, but Simmo got up the quickest to knock it in for a 1-0 lead and the place erupted once more, I think I was down by the tunnel at the time dancing a jig of delight!
Then we should have had a penalty, and everyone became incensed that it wasn't given, and Neil made his feelings known and the ref was called over by the linesman, who then went on to send Neil to the stand with no hesitation, not even a talking to!
The rest of the half seemed a bit cagey after that, but then Powelly rose to meet a Boothy free kick and suddenly it was 2-0, and time for everyone to go beserk again - I was up at the top of the stand for that one, such is my inability to stay in a seat during a match!
Cleggy chill-axing with the Blues Live boys pre match
Half time came round, and I knew we had lots to do, so I took the Famous Five down to the pitch so that Cleggy could fulfil his dream and have a chat on the pitch with the players he adored in the 1960s - Cleggy doesn't half come in for some stick, unfair stick, you should see what he has to contend with before, during, and after matches, and trust me he is the right man for the job!
The second half seemed more of a formality and eyes were constantly checking mobiles to see what was going on at Skem, with the answer being a 1-1 draw and this time there was no late drama as time ran out on Skem, and the Blues were3 points clear once again as the final whistle sounded.
I was down at pitchside at that point as the Lap of Honour was due to take place of course, we just decided to get on with rather than keep everyone waiting, and my thoughts were just elation that the day had gone so well, as myself & Pat guided them round to make sure everyone got to see the players & management team.
Once the game had finished, some duties still to do as Chris Simm came up for his man of the match award with the sponsors, and as per usual once the photos were done upstairs, it was time to take him downstairs to the Blues Bar, and take the applause of the fans down there.
Then a couple of people asked if I could get the autographs of the Famous Five, and they were so impressed with the whole day, they loved every minute, and yet another indication of what this club means to both current and former players alike.
Time then to chill with a pint with Mrs B - I've made reference to my wife in several places as this last 12 months has been possibly the hardest in my life, whilst setting up the club and looking forward to the first ever game, we lost a baby, and seeing what she had to go through was very very painful indeed, and will stick with both of us for the rest of our life. I'm a very lucky person to have someone who whilst not liking football, helps out at the club at home games, and is sharing the pride of what has been achieved at Chester FC.
Back to the football though, and after having a few glasses of wine at home on Saturday night, it was time to start thinking about Monday's game at Fylde.
We knew that a win against Fylde would put us in great shape for the last game, and we hoped (but did not expect) Prescot to get anything against Skem in their match.
On the Hipkiss Express, there's a jolly hostess
I jumped aboard the Hipkiss Express on the way up to Fylde, and had a good chat with several regulars, all enjoying talking about the good times we've had this season, and where we can go from here. It was great arriving at Fylde - I'd missed the Cup game, so this was my first visit, and dropped off at the pub before the ground, well there's no better place for a drop off is there, especially on a sunny day - the only problem being five coach loads of people arriving at the same time, and most looking to get a drink from the bar!!!
The pre match build up was good too, and I took a bit of time speaking to various people in the crowd whilst soaking up the rays before kick off, and the customary pre match burger (or two!).
The first half was a tight affair, and with the news that Skem were leading at Prescot, we then saw our boys fall a goal behind, and all of a sudden everyone in the ground was working out the permutations, and knowing that as it was standing, we'd be level on points with Skem.

Get in Boothy!
We need not have feared, as a brilliant second half display saw Chester win 3-1, and the scenes at the end were great, with people jubilant at what was very nearly a title triumph, it wasn't of course and we have to be reminded of that - but that victory was huge, and means just the one point needed now to secure the championship - a defeat could even be enough, but we won't even consider that an option as we know Skem could and probably will run up a few goals at home to Ossett - it's great though knowing that there are still targets to be hit, 100 points for the team, and the golden boot for Wildey!
The journey home was a fun one, as I went back on the team bus, and had a Non League Show interview to do, as did Neil just after 7pm, however, it was timed with half the lads getting off the bus at Haydock, and I could hardly hear a thing, but all good anyway - Caroline Barker and her team have been brilliant towards Chester FC and have followed us every step of the way, and I'm sure they'll be one of the first to send a Congratulations message through to us tomorrow if we do the business.
So, 6 days ago we were all looking forward to our last home game, and now today we're looking forward to what could be the biggest moment of our history so far, and as dates go, on 29th April 2010 we put our case to the Chester and Cheshire West Council to be the new tennants of the Deva Stadium - with some unwanted Danish opposition, but hey, just look at us now, we're sizzling!
Enjoy the match tomorrow, and as Perry Groves put it to me before Monday's game at Fylde...
"Play the game, not the occasion, and the League will be yours."
Come on you Blues!!!