Yes, the phrase that's on everyone's lips at the moment, it really is squeaky bum time as the end of the season draws ever nearer, and Skelmersdale - our closest rivals in the Promotion hunt - are suddenly just 3 points behind us with a game in hand.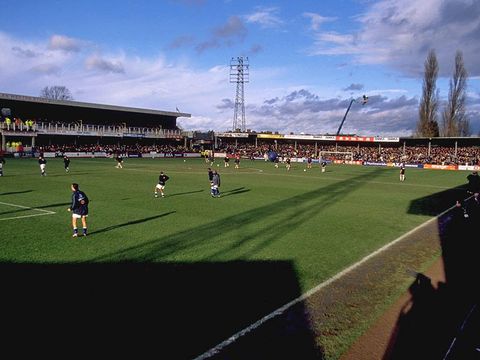 Skem - doing a "Hereford"
Now a lot has been said in various quarters about why the lead is now only 3 points instead of 13 - but let's just remember that Skem always had at least a couple of games in hand on us and have done a "Hereford" so far in winning 8 games on the bounce, but when you see the games they've played they have had a nice run of fixtures, granted they still needed to go out there and win them, but now is the time we'll see what they're made of - the next 4 games are tricky.
We of course simply have to get back to form, a few more wins and we're there, in the Premier League - what has gone largely unnoticed of course is the fact that we've actually qualified for the Play Offs, and that should be celebrated in itself - but it shows how far we've come as a club in the last 12 months that we're actually viewing that as a disappointment if we end up in the Play Offs.
If it happens then we'll deal with it - right now it looks like the lowest we'll fall to in the League would be 2nd place, which still ensures you home matches in both the Play Off Semi Final (against 5th place) and the Play Off Final, so we'd still be in pole position, but let's hope we don't even have talk of the play offs come April 29th at Garforth!
I've been doing my predictions all the way through the season, and originally I had us to win the League whilst Witton were playing Chorley at home in a few weeks time, but they have shockingly fallen away recently, but like every other Chester fans, hopes they get back to winning ways at home to Skem tomorrow.
I've now got us to clinch the title with a point at Garforth - this with us going into that game 3 points ahead of Skem, who are unlikely to slip up against Ossett in their last game.
Don;t you just hate tickly coughs?
It's been a while since I blogged on here and that has to do with me feeling lousy, a touch of man flu - have done a
previous blog about that here, with a cracking video
- but I really have felt so crap that the PC was just a distant thought, and annoyingly its dragged itself out still now, with one those dead annoying tickly chesty coughs, so lots of Covonia being sunk at the mo!
It's been another busy week or so, with all those recent home games taking place, and lots to deal with - the curzon Ashton game saw us entertain Graham Abel - one of Harry's Boys from the 80s, and on the same day I received a call from Ryan Lowe who wanted to come and see us in action, so I invited him to do a half time interview - knowing that he'd love the reception. Some obviously see Ryan as one of SV's friends - having spoken to Ryan on a few occasions, I know that he viewed the situation at Chester City as disastrous, but is more than delighted that we have come back the way we have, and will continue to support Chester FC in the future.
Whilst trying to sort out the half time interviews in that game, I got called to the ref's room as it was made known to us that the Assistant Referee had pulled up injured in the first half and a change was needed, but as no fourth official is at games at this level, we were left with going out over the PA system with trying to find a replacement, someone who was qualified to do the job.
Naturally, you start to think that 99% of people on our ground are Chester fans, and is it such a good idea for someone to put themselves forward for the role, imagine if a controversial decision was made, they could be victimised for life!
Thankfully the person who stepped in didn't put a foot wrong all the second half (for both teams), and the incident passed, but a shame that we couldn't win that game.
Saturday, back to winning ways at Mossley, and an important cleareance off the line from Michael Aspin who has been brilliant recently, and deserving of his man of the match awards that he's netted. Skem of course kept up their challenge with another win, you kind of expect it now!
We then went to Woodley on Tuesday night, in a place that felt about -2 having left Chester in sunshine - what's going on there???
Oi! Mind the roof!
We were also on the flight path to Manchester Airport, so every time the ball went in the air you'd catch sight of an incoming plane probably returning from a warmer climate, and after originally venting my jealousy towards them, realised that they'd be flying back in to a colder one!
What about the game then? Well most of it was spent watching high clearances coming back at the player who launched it - a bit like those days on the beach when you smack one of those lightweight balls in the air and then with gust of wind it flies back over your own head for a goal kick, or even worse a goal!
It wasn't the best of games that's for sure, and I think relief was all around the place when Simmo came on to level the match up, but disbelief a few minutes later when he blasted over from close range - that should have been the winner, but it wasn't - we have to deal with it and move on - oh and Skem won again!
On the media side of things, I had a phone call from Al Jazeera TV the other day, who are doing a programme on English Football, and they want to see the impact the fans have on their clubs, and are doing a piece on Liverpool, Plymouth, and Chester - when the call came through I was curious to see why they had chosen us, but the producer that I'm actually dealing with is from Chester, so it's a good story for him to cover!
The good news was is that he rang me back after I originally called him to return a left voicemail, as he went on to say that he was calling from Qatar, so my bill would have been huge had he not called me back!
We may see something on the Radcliffe game for the above feature, so will keep posting about that with the latest developments with it.
A delighted Michael Owen
This week has also been dominated by getting the press release ready for the Manor House Stables, and Steve Ashton has done a lot of work on this one and deserves great credit for pulling it together, it's also great to see Michael Owen wanting to help his home town club out too, and along with fellow owner Andrew Black, and the help of Mike Foster at Deva Racing, has given Chester fans the chance to 'own' a racehorse that will run in Chester FC colours and will hopefully net some prize money - it is of course £50 per month for 6 months, and that may be too much for some, but I'm sure there will be 50 people out there - especially in the business world that follow Chester and fancy a bit of a punt on this one!
So, onto tomorrow then, and the home game against Cammell Laird, and a chance to put things right again, and we've hopefully got a stack of former players attending the game tomorrow, and we're hoping that they'll be able to walk round the pitch to applaud the supporters before taking their seats - we've got plans for players from the 50s through to the 90s attending tomorrow which should be great to see.
It's also Grand National Day tomorrow, and I'm sure the usual lengthy queues in the bookies with first timers in there with their slips, who are you going for? I'm going for Balabriggs - hopefully it will end up a worthy winner!
So, fingers crossed tomorrow then, and let's hope we can net another 3 points in our pursuit of the title - COME ON YOU BLUES!!!!