Well, having seen it already with Chorley, we once again come across another club that end up causing a stir with Chester FC, but on this occasion, down to just one person, a programme contributor.
Last night was the latest stop on the rollercoaster that is Chester FC, at Curzon Ashton, and on paper one game that we had all been looking at for ages thinking this would be a key game in our season.
Originally of course, this game was supposed to have taken place the week before Christmas, but of course the weather saw to that and threw it straight into our run in.
Barrie's latest Hipkiss Express
I decided to get on the Hipkiss Express last night for a change, and it'll probably be the last time too, I get superstitious at the best of times, and last night may have seen the end of my coaching-it days, as the evening turned into a miserable one, and that was just sitting next to my mate Richie ha ha!
Anyway off from the Exacta we went, in good mood, confident that we could take something from the game, and arrived at Curzon's Tameside Stadium following a relatively stress-free journey on the roads.
All still looking good. Then off into meet the board members of Curzon Ashton, and all seemed very friendly and hospitable – especially the elderly gentleman proving the cups of tea, who saw nothing as a problem last night.
Also in the board room was the oldest surviving Manchester United player, from the 1940s, Jack Crompton, who is now the President of CAFC, and pleasantries exchanged.
A nice little walk around, saw a very decent bar full of Chester fans, then outside to see a cracking stand for this level of football, then catching up with a few friends at the ground, before taking a look at the match programme.
Then, the night took its first turn for the worse. Upon reading the "Welcome To The Tameside Stadium" and "Terrace View" all the good about the hospitality that the home side were showing, which included the board room, the bars, the food caterers, the stewards, and the police – all of that seemed to pale into insignificance when reading through the programme, and with one fell swoop Curzon Ashton hit a low.

This year's award for Spitting of the Dummy goes to...
 In what should be an "official programme" someone had taken it upon themselves to pen a piece that had a right pop at Chester FC, and slated us for being in the NPL and stated that we should start at the bottom of the football pyramid, rather than where we had ended up. The writer then went on about should Chester have finished bottom of the league, would we have been granted a stay of execution to stay up based on facilities, and that we in essence should be blamed for Leigh or Ossett – whoever finishes second to bottom – going down – well I'm sorry but if you finish second to bottom you don't deserve to stay up anyway.
Then onto page 3 of what appeared to be a 'fanzine' rather than an 'official programme', and the total lack of respect for not just ourselves but other clubs as well, with FC United of Manchester being referred to as FC Man Ure – some of course will find it funny, but again, this is supposed to be an official programme and not a fan zine, can you imagine our reaction if our rivals up the road had something in their programme about "Jester" – we'd go mad, and rightly so.
The constant moans about the referees they've had was somewhat boring too, christ, we've seen enough to last us a lifetime both home & away – and in particular last night, but it isn't something for go harping on about in the "official programme".
Then followed the dig at the Exacta Stadium, labelling it a "graveyard" with 2100 fans in it, again insulting to the Chester fans if this was considered an official match report.
Then the old chestnut about the entrance fee at the Exacta, us charging £10 of course, but not that we need to justify it, but the rent for the Exacta is substantial compared to what a lot of clubs in this league will face – and we are ambitious too, a fact reflected by our fans, who have come in their thousands to watch the Blues this season, how many extra Curzon fans would have come along had it been £9 or £8, or even £7 – my guess is not a lot, given their home attendances, which for this league are average.
We are ambitious, we want to move on up the Leagues, and so the admission is part of that strategy, it's as simple as that.
Then the problem of paying a pound to enter the Blues Bar, which again doesn't seem to put many off when you see a full bar inside, because fans are happy that the money is being re-invested with the club.
It was a real shame that the programme team saw fit to allow this piece of disrespectful writing into their programme, and when challenged about it, the Curzon Ashton board could only offer a feeble sorry, as they didn't know who had wrote it, and hadn't even seen it. I made my feelings known about the article, and advised them that their whole club which had given us a professional image, had now been let down by one person's contribution, which was purely insulting to the people who would end up buying it, ie 800 people from Chester.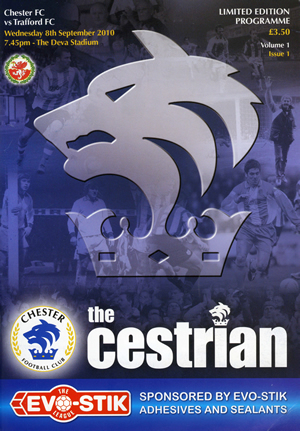 Our programme...professional
We at Chester have a team of people who scrutinise everything about our match day programme, looking for any kind of typos whilst coming up with content, and we wouldn't dream of allowing anything that insulted the team we were hosting that day into it.
As mentioned, opinions like this belong in a fanzine rather than an "official programme", and Curzon Ashton should look at that as to why people were left annoyed at their club. Take that element out, and I'm sure there wouldn't have been a complaint in the house about their club, apart from beating us 3-1 of course.
Then followed the journey home on the Hipkiss Express constantly venting my thoughts on the world of Twitter & Facebook, before finally getting home and struggling to drift off to sleep after witnessing a rare thing, an away defeat.
Right, that's enough from me now, I've said my piece, I'm not even going to refer to the game, we all know the result, we know where we now stand, and we're all new members of the Lancaster City supporters club for the next week or so!
Come on the Dolly Blues!!!