Just heard on Sky Sports News that 11 managers have been sacked since Christmas, an unbelievable statistic considering Christmas was barely 2 weeks ago.
Roy Hodgson was perhaps the biggest one the media have centred on with Liverpool obviously being one of the biggest clubs around, but Roy was only allowed 6 months in the job despite inheriting a side that was inbalanced thanks to the man the fans seemed to adore, Rafa Benitez - and yet towards the end of his reign at the club, he was booed, and many fans questioned his decisions.
Hodgson was never really given a chance, and quite openly said that he'd not received the backing of the fans from the off - he did of course back track that statement of course but the fact is he was right - Liverpool fans are best known for their patience, but slipping to four points above the relegation zone proved that they weren't staying patient this time, and the introduction of 'King Kenny' may yet be an inspirational moment of the season, but it could also go the other way given that he's been out of the game for 20 years.

Roy - he still scares the **** out of you!
 It wasn't a great week if your name happened to be Roy, with Ipswich manager Roy Keane getting the chop, but here you can say that the club was patient, giving him 2 years to turn the fortunes of the club around, and I think when he took over the board expected promotion, but in fact they have had the reverse, with ongoing battles against relegation, and a Cup defeat at the hands of deadly rivals Norwich this season probably didn't help matters one bit.
So, 11 managers have lost their jobs then, as Chairmen and Directors of clubs decide that they want a fresh face to give their club the push it needs to either get them up into promotion places, or to try anything to avoid relegation.
Here at Chester, we've seen our fair share of Managers come and go, with nearly 20 managers in one decade proving that Chester was probably the worst place to be if you were a manager - it certainly wasn't the safest place to be that's for sure.
The Dream Team get stuck to the dugout roof
Stability is the key for any football club, and right now we have Neil Young at the helm at Chester, when we made the decision to appoint Neil it was following a lengthy late night discussion between all the board members, and every angle was looked at, it really was the most important decision the board would have to make - the first Manager of Chester FC.
If it all went wrong then we would be accountable for the decision made, but we had belief in someone that had fought his way out of the league we're currently in, and he knew the League too, which is a massive bonus. It's all well and good going for someone who has management experience further up the ladder but would they know the leagues below them - no, probably not.
The results that we've seen so far have been nothing short of amazing - even though we've had a blip at home, you have to step back and look at the situation just a few months ago, whereby we hadn't kicked a ball, other teams in the League pretty much had a spine of players that teams would be built around, and had played together in past seasons, but here we were going from scratch, so being top at Christmas & New Year was just fantastic, and a real testament to Neil and Gary, and the rest of the management team.
Time will tell obviously if the nerve can be held for the remainder of the season - and I'm confident it can be - although the rest of the board are not being drawn into a belief that the League is already won, far from it. We're prepared yes, and will plan for the three scenarios that are possible at the end of the season, that being 1) winning the League, 2) going into the Play offs, and 3) not going up.
One example to look at is FC Halifax who started life in the same league as us, but in their first season only finished in the top 10, and didn't even secure a play off place, so we need to keep that in the back of our minds as a warning to us all not to expect instant success - we can all hope for it yes, but it's not a given, and we have to battle for every point, and that's why we need to get behind the side 150%.
Our position right now looks to be a straight dog fight between ourselves and Chorley, with Curzon Ashton dropping more points last night in perhaps a result that we weren't expecting, but I did say that Curzon would not win all their games in hand, they only have 3 now, and we still have to play them twice.
So, back to the original topic, managers, and Neil has certainly done extremely well so far, he's got us in a leading position at the top of the table, something we didn't expect, but certainly hoped for. Hope does develop into expectancy though, but we must keep focused here as the push begins, and I really think that once we hit that 50 point mark, a mental barrier will be removed for the lads, and the run in will really begin.
Last night, we held our first board meeting of the new year, and plenty to get through which culminated in a three and a half hour meeting, and there will be more on the transfer front today as Neil strengthens for the most important part of our season.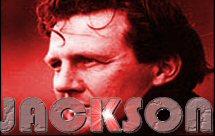 Jacko - coming to an Exacta near you
Something I wasn't expecting happened on the way to the meeting at the Exacta, as whilst driving there my phone went off, and it was the legend that is Peter Jackson, so had a good conversation with jacko - one of my heroes in the 90's, and pleased to say Jacko will be joining us in the near future at the Exacta as one of our Legends of the Week, and he's looking forward to coming over, and will I'm sure get a great reception from everyone.
That's it for now...
Come on the Blues!