Saturday saw a return to winning ways at the Exacta Stadium - thank god! All fears that we'd never see another win at home were thankfully dismissed in style as the Chester fans witnessed a first home League win in the month of January since 2002 - unbelievable stat that!
Barrie Hipkiss - proper legend
The weekend started early for me, with an appearance on Dee 106.3's Friday Night Football Show, where I teamed up with (Sir) Barrie Hipkiss who revealed that he'd been invited to Buckingham Palace, and he deserves it - let's hope the Royals bow to him, they should do for all the work he's put in!
It was the second time I'd been on the show, so I asked Shane if I'd get a hat trick ball if I was invited on again (a la Soccer AM!), and I tell you what time just flies when in that studio what with all the cheesy 80s tunes being played!
Anyway, onto Saturday, and up at 10am to watch Soccer AM as part of the pre match routine, then on to the ground and straight away met up with Nigel Edwards who was our Legend of the Week, and Nigel was absolutely thrilled to be there on Saturday, so I took him up the Legends Lounge and introduced him to everyone up there - he said that the set up now was amazing, and it was never this good in his day!
I was later to find out that Ian Moir would be there too, so thought let's have 2 players on the pitch for the half time interview - with Cleggy away, Tom was covering his role in the PA room for the day which meant I would do the pitch side job, typically it was raining and my plans for a half time penalty for Nigel were in the balance!
I was so wanting to give Nigel his (unofficial) 300th appearance for Chester at half time, and made sure I'd got a cap to mark the occasion too!
Anyway, the match got underway, and you just felt that this would be Chester's day, and with the early sending off, it certainly felt even more like our day, on looking back at the footage today it's all a bit of a melee (?) in there but the result was a red card for the jolly luminous green giant - I asked Asp who was marking him prior to the game, and he said if it was him he'd need to take a pair of step ladders out onto the pitch with him!
Now the story of my season has dictated that I miss many goals, although recently I'd had a half decent record, but getting ready for the half time stuff, I decided to let Chris the Steward get on with the 'pulling the tunnel' out as half time approached, so kept my distance behind out of the way, only to hear a great roar - bugger, I'd missed Bradley's goal, which was scored at a great time of course just when it seemed the lads were going in at half time on level terms.
You wouldn't have thought they'd scored though as they came through the tunnel at half time looking extremely focused on winning the game - not a smile to be had, which suggested that they'd not been happy with their performance in the first half and wanted to make amends in the second half.
So, anyway, half time and time to line up Nigel & Ian (I don't think Ian minded when I labelled him a 'part time legend', after all he'd only played 25 times for the Blues, but it was great to have him there and he is such a happy character - strange that with him being Scottish!
Nigel gave me a quality answer to what his memories of the Aston Villa game back in 1975 was, "losing!" he said, brilliant - not much coming back from that is there?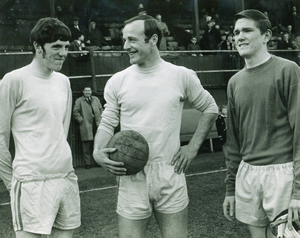 Nigel, Gary, Grenville
Thankfully the rain held off and the half time penalty kick challenge too place, and Ian went in goal as Nigel - who told me before the match that he'd never taken a penalty - despatched a fine penalty that Messrs Wilde & Field would have been proud of with Ian tipping it into the roof of the net in front of the Harry Mac Terrace.
Next item, and time to embarrass Lily Hymes our Commercial Assistant. Lily has done a great job since being at the club but this was her final game, so we'd arranged for the lads to sign a shirt and get it framed, and we just had to get Mark Connolly - her favourite player - to present it to her. I think Lily was suitably embarrassed.
Onto the second half then and it wasn't long before the 2-0 lead was gained, with Wildey out-jumping his marker to nod into the back of the net in front of the home end to effectively kill the game, he hung in the air for so long!
Then time to miss another goal as I had to go and check to make sure the microphone was working in the Legends Lounge for after match activities, a 30 second job - only I picked the wrong 30 seconds as I heard yet another roar and returned to discover Robbie Booth had scored the third goal - grrrrrr.
Down to the tunnel area again for full time though as we wanted to ensure the players went up to the South Stand to clap the kids who had come through the gates as part of our initiative to get into the local schools but before they could do that Wakefield scored a consolation goal. The full time whistle soon followed and the face of fury from Richie Whiteside said it all - gutted at not keeping a clean sheet.
Following the match it was time to relax with the media lads, as we put on a special meal deal on for them as a thanks for their efforts in 2010, accompanied with a few beers of course, just nice to relax post match whilst watching the Arsenal game, and talking all things Blue, and at 7pm the match day at the Exacta ended.
The weekend of footy continued yesterday, I left the house for about 5 minutes during the day's games, and who'd have thought all 4 games would end in draws - bizarre.
Oh well, time to get ready for work again now - as a new week begins.