It's been another chaotic seven days following the Blues, with two more wins as Chester continue the relentless charge towards the first Championship title since reformation.
Last Saturday was of course a huge result, only weeks after a top of the table clash between 1st and 2nd at Chorley, arrived another one, this time against Skelmersdale, who had all of sudden burst through the group into 2nd place, and on a great run.
Big George powers home the winner at Skem
It was then built up as a major match, and if the Blues could grab the points from this one then we'd put ourselves in a tremendous position at the top - and so it was, big George who maybe shouldn't have been on the pitch according to some, rose highest to power home a second half header to send the travelling Blues wild knowing that this was a major moment in the game.
That turned out to be the winner, and yet another important goal scored by local lad done good, George Horan. The shivers still go down the spine when you see the goal in your head from the Witton game where he scored the winner in a 5 goal thriller at Wincham Park, what a goal, and what a match that was!
Riiiiiiiimmer, Riiiiiiiiiiimmer!
So, 12 points clear at the top then, and time to enjoy Saturday night, although thoughts were already turning to the Wednesday fixture with Salford City, with the added bonus of the visit from BBC's Football Focus. As it was coming up to a year since Chester City went under, I shared a phone call with the producers of the show, as they were looking to do a return visit to the Exacta Stadium - 12 months previously I'd done an interview with them about the impending closure of the club - so we worked out what they could do, and said I'd arrange all the interviews that they'd need, so onto that I got started.
That coupled with the return of the prodigal son, Stuart Rimmer meant that is was going to be a busy Wednesday night and certainly a lead up to it.
On Sunday, a case of responding to various e-mails that had been received at the club, which included a University student's questions for a project - we've had a few of those this season and I'm quite happy assisting those who have managed to do assignments on Chester FC - it's always nice to talk about where we've come from in the past 12 months.
Turning to the start of the week, and it was board meeting night on Monday - and as usual lots to discuss, including the new away kit, and whilst we wanted to put the shirts to a vote, there was really only one winner, as the choices that people wanted to be put forward as a choice for last season weren't available to buy as just a shirt (you had to buy other items with it), and I'm sure there would have been a landslide victory for the Yellow kit anyway, given the demand for it last summer!
The only down side is that we'll all have to wait until June to get our hands on it, but when was the last time Chester FC had a new kit to bring out to the fans just a month after the previous season had ended????
We'll be looking at the range of leisurewear associated with the away top, and I can assure those reading this that there are some extremely attractive items in there - some of which will I'm sure sell like hot cakes to the supporters!
We are also discussing season ticket prices for next season, and one thing that we all need to be aware of now is the need to ensure we remain ambitious enough to progress further, and we need everyone's support in the future - so if that means a slight increase in the prices then just take a minute to think why that would be - mainly we want to drive the club forward, and if we are to compete in the Conference, then based on current wage budgets in that league, you'd be looking at £500k to £1m easily, so we all know we have to do what we can to bring in the revenue required to get to that point.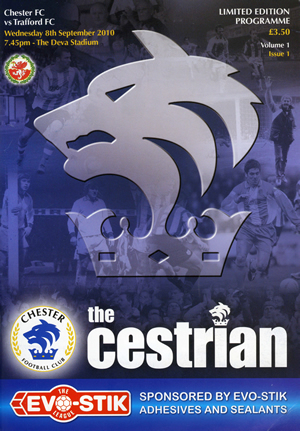 what a great programme!
Monday is also the day we proof read the match day programme to spot any typos - as we try to make it as professional a job as possible, and Martin Huxley & Rob Ashcroft do a fantastic job of pulling this together, and most of the time it's spot on apart from a few dodgy typos in the Blue's Blog page - not sure who does that =)
Tuesday I received confirmation that Stuart Rimmer was definitely coming down to the Exacta Stadium for the Salford game, and I was more than delighted at that as Stuey was one of my heroes in the mid 80s when he banged in all those goals in his first spell at the club.
The same day I got an e-mail from Eddie Bishop confirming his attendance at the Witton game - I'd asked Ed if he would like to attend that game based on the fact he used to manage Witton - it just felt right - and so I was delighted when he accepted.
So, all thoughts turned to Wednesday night then, and after producing all the usual match day schedules for the board, PA announcers, and the photographers it was time to get in to match day mode as I left work - although thanks to my car returning after its 2 year lease ended I had to grab a lift with Chief Exec Steve Ashton in his new cool motor!
So, down to the ground to meet up with the Football Focus team who had arrived and were already filming and look out for the nice shot of Jonathan Ledgard opening up the Exacta Stadium gates as if to say "Chester are Back" - that was the first glimpse of the filming they were doing, and they would go on to do lots lots more.
The free statto fact I gave everyone that night was that 6 months to the night we'd beaten Trafford 6-0 in our very first home game with the BBC in attendance, so I convinced them that they were a lucky omen, although I also told them I'd hold them responsible if we lost!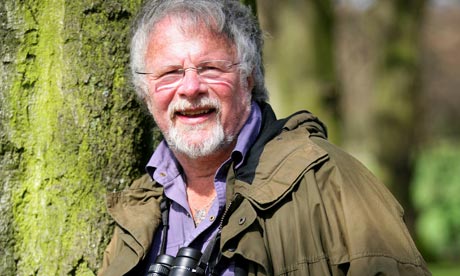 One Chris Pilsbury, there's only...
They firstly interviewed Chris Pilsbury - wonder how Chester's very own Bill Oddie will come across on the air tomorrow?? - and I'm sure he gave a very passionate interview. Steve Ashton was next on the BBC conveyor belt, before they then sought out Neil Young to do a one to one with him in the dugout - and with the temperature dropping looked quite blustery out there!
I'd asked George & Wildey to do interviews with the crew too, and have risen to Wildey's challenge to get him on Sky Sports - although I'm not so sure I should highlight our star striker to the nation just in case anyone comes in for him - perhaps I should draw up a contract with a clause in it that prevents him from moving on based on the interviews I manage to get him!
Both lads were asked if they could do the interviews in the dressing room, but that look of panic set across the faces of George & Wildey spoke volumes, in fact probably louder than what they talked in the actual interview - afraid that they'd get so much ribbing from the rest of the lads - and they probably would - they chose to do the interviews outside in the freezing main stand - although Wildey had to cover up the GP on his jacket to avoid confusion after he'd borrowed it off Gary Powell!
We then looked after the BBC crew in the Legends Lounge, by giving them the full treatment, and then the arrival of Sir Stuart Rimmer, who confessed he was very shy about the whole going on the pitch thing at half time, and so we agreed to do just the presentation of the CFU Hall of Fame induction at pitchside rather than the interview - hope that explains why we did things that way - I know loads of people wanted to get their questions in, and if we'd have been able to, then we would have done.
So to the game itself, and after the usual pre match build up, which included Ashley Williams receiving a deserved player of the month award - wonder who selected that on the Seals Podcast last week - although having said that it was the most difficult selection I've been involved in, as Robbie Booth, Carl Ruffer, Chris Simm and Greg Stones had all had a great month themselves, but in the end we narrowed it down to Boothy and Ashley, and the latter became the winner.
Are you Ryan in disguise...?
Where was? Oh yeah, the match. Well it started off quite well with Boothy having a cracking effort go just wide, but then the game went a bit flat - that was until of course a fantastic shot from the edge of the box from Steven Beck, who has come on leaps and bounds recently, firing in to put the Blues 1 up - and we though right here we go then - until a couple of minutes later when the ref awarded a free kick to Salford, and quite predictably up stepped Rhodri Giggs who curled a free kick in to the arms of Adam Judge - well that was the plan anyway, but unfortunately the ball squirmed underneath our excellent keeper who has been in great form since taking his chance, and it was 1-1.
We didn't have to wait long though for order to be restored, as Barnesy - who had come on for the injured Ashley Williams - threaded a beauty of a ball through to Simmo who raced away very Rimmer-esque and slotted the ball home to restore our lead, great finish.
Half time came and time to go down to the pitch with Stu and hand over the framed picture which was handed back as it will go onto the wall in the corridor upstairs on the way towards the Legends Lounge.
Stu had been sitting with the Football Focus team all the way through the first half as Jonathan Ledgard grabbed his through-the-match comments with our returning hero, but had commented that he was really enjoying the match as we walked down to the tunnel.
Then on to the second half, and it was certainly a windy affair out there, with Salford carving us open a few times, but much to the despair of their Directors who were up and down like a yo-yo thinking their team had scored - especially when Foster struck the post with his effort - that was quite funny, and they did engage in plenty of humour with the Blues fans sitting in front of them to be fair.
The match was of course sealed when Robbie Booth finished off a great run from the left and cracked a shot in off the left post to give us the 2 goal advantage that we were all craving - great finish from a lad who is full of confidence at the moment.
The end of the game approached and I ushered Stuey Rimmer out as he had to travel back to Southport and be up for work at 5am, so he had to get out before the infamous car park queue leaving the ground trapped him!
our 3 minutes of fame tomorrow!
Football Focus hadn't finished though, and they continued to film inside the Legends Lounge, grabbing interviews with Neil Young & Giggs, before then having a relaxing drink before their return to begin the editing of near on 6 hours of footage - hope their cameras were working alright!
Right, have babbled on enough now, it's Friday lunchtime, and we're all looking forward to tomorrow's game, although the news on Wildey & Ash isn't too great - received that from Neil this morning, so a chance for the rest of the boys to step up and make a case for themselves.
Hopefully tomorrow, we'll hear lots of singing from the fans, so Harry Mac boys do your best and get the East & West standers singing too in the way that's worked before!
Come on you Blues!!!!